Whether you're looking to take care of your auto bodywork or improve your garage with some DIY tricks, you would need a flexible and reliable welder to complete these projects. But, choosing the best welder without breaking the bank might be tricky, and there are a lot of factors to consider.
One of the top welders out there is the Eastwood MIG 135, which we would explore in this review. In this guide, we would explore what makes this tool the ideal choice for your everyday welding tasks. 
This product's also been included into these rankings:
Specifications
Weldable metals
Mild steel, stainless steel, and sheet metal
Material thickness
Mild steel 24.00 ga - 1/4 in.
Rated output
20% @ 90 A duty cycle
Amperage range
25 A – 135 A
Max open circuit voltage
28 VDC
Wire feed speed
40 IPM – 450 IPM
Dimensions
16.1 x 14.5 x 9.1 inches
Eastwood MIG 135 Review
When you hear Eastwood, most minds go to the auto industry, but this manufacturing company has quickly moved its focus to impressive welding machines for DIYers and professionals. The Eastwood MIG 135 is one of these models, and although it's not as powerful as some professional welders that Eastwood has in its series, it offers daily functionality for basic DIYer work, fabrication, and restoration.
The unit offers a lightweight and functional design and can take care of mild steel, stainless steel, thick steel, and even aluminum. Knowing what a welder offers before you purchase it is important, which is why we'll look at the basic features of this device below.
Welding Processes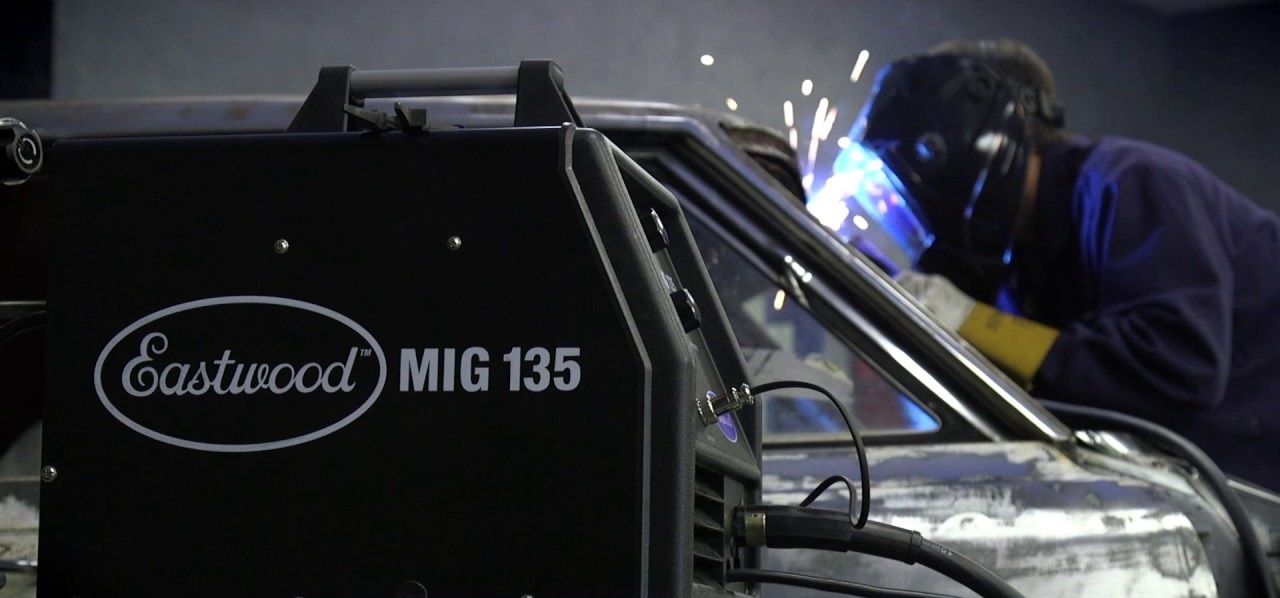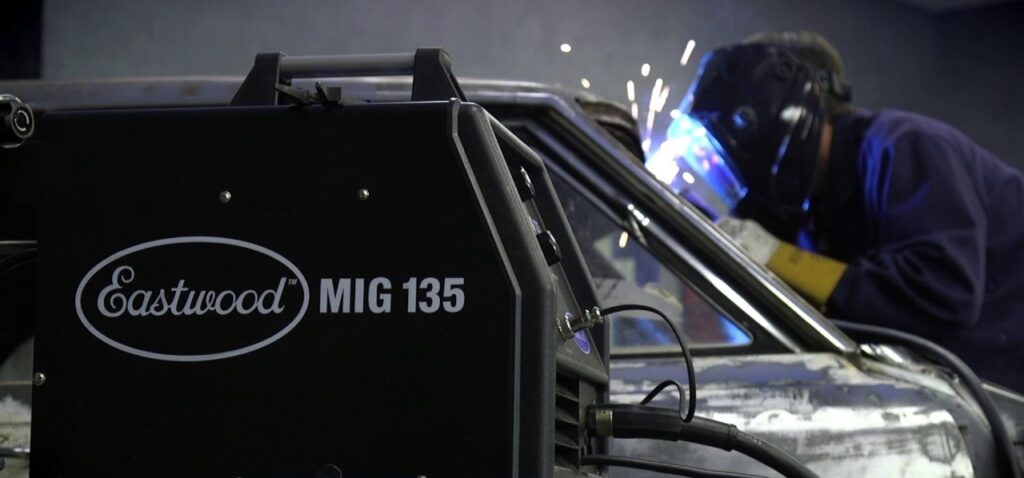 The welding process of the Eastwood MIG 135 can be done by novices, hobbyists, and experienced welders because of the straightforward functionality. 
It works best when you use it to weld bicycle frames, thin sheets of metal, or exhaust pipes, and has a duty cycle set at 20% at 90A. With this, the welder can work for up to two minutes at 90A before it shuts down.
It can be plugged into any power outlet in your home with a long power cord, and start using the machine to weld your project.
Materials that Can Be Welded
The MIG 135 model comes with a range between 25A and 135A, allowing you to weld a wide range of materials. With enough power, you can weld mild steel, stainless steel, thick steel, and aluminum.
If you use the flux core welding function of this welder, you can also weld thick steel. But before doing this, you must adjust the model's polarity. It also feeds a wire at between 39 and 468 inches per minute and gives the user full control over the wire speed settings for more convenience.
For welding aluminum, you can attach a 20172 spool gun with the MIG 135 welder and get to work. The machine has a Tweco-style torch that uses the regular consumables but doesn't weld materials thicker than the given range with the Eastwood 135 or it can cause damage and injury. It isn't built for heavy-duty work.
Material Thickness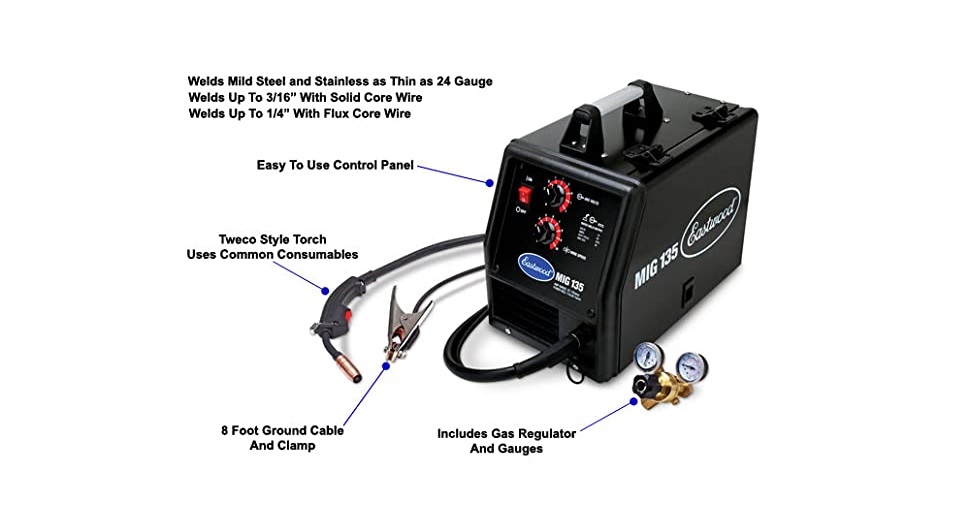 You can weld materials with a thickness between 24 gauge and 3/16-inch thickness. If you attach the flux core welding function, you can also weld materials as thick as ¼-inch.
Although 3/16-inch thickness might not seem like it's thick enough, you won't likely go over this range when working on restoration and bodywork projects. It's also thick enough for beginners into welding, because most people start with smaller projects. Once you get the hang of this machine, you can move to use other heavy-duty models. 
If you want to weld some thicker steel, you can turn on the flux core welding option to get more out of the Eastwood 135 model. The specs are decent enough for many beginner projects Trusted Source 55 Welding Project Ideas to Build For Home or to Sell - WaterWelders Do you love to DIY but need a bit of creative inspiration? Look no further. We've got 55 welding project ideas you can build for many purposes. waterwelders.com , restoration, fabrication, and basic auto bodywork.
Power Requirements
The input voltage of the Eastwood MIG 135 is set a 120VAC, and it cannot support 220V input voltage. The model has two control knobs which you can use to adjust the voltage, and since there is a setting for infinite voltage control feature, which allows you to control the voltage as high and accurate as you want. The infinite voltage allows you to adjust your MIG 135 to meet your needs and properly weld the metal. Infinite voltage and wire feed speed control is a pretty new welding technology, so it's a huge plus for this portable device.
The power cord is up to six feet long, which allows you to plug the unit wherever is convenient for you in any household outlet. Keep in mind that the model would not work with a 15A circuit, and the input voltage cannot be extended to 240V.
Duty Cycle
The duty cycle of the Eastwood MIG 135 is too low for you to use this device as an industrial unit. It is set at 20% at 90A, which makes this model more of a beginner's unit. 
The duty cycle is used to measure the welding time over 10 minutes, and since this unit has 20%, it means that it can weld for two minutes continuously at 90 Amps. Then, the machine would have to cool for the next eight minutes before you continue again. Thus, 20% of 10 minutes, the model works, and in the other time, the MIG 135 would rest for the remaining minutes. 
Those that would find this duty cycle appropriate include DIYers, farmers, ranchers, restorers, auto mechanics, handymen, and steel sculptors.
But, if you want to weld regularly, especially if you're planning to do some heavy-duty work, then you won't work well with this duty cycle.
Arc Control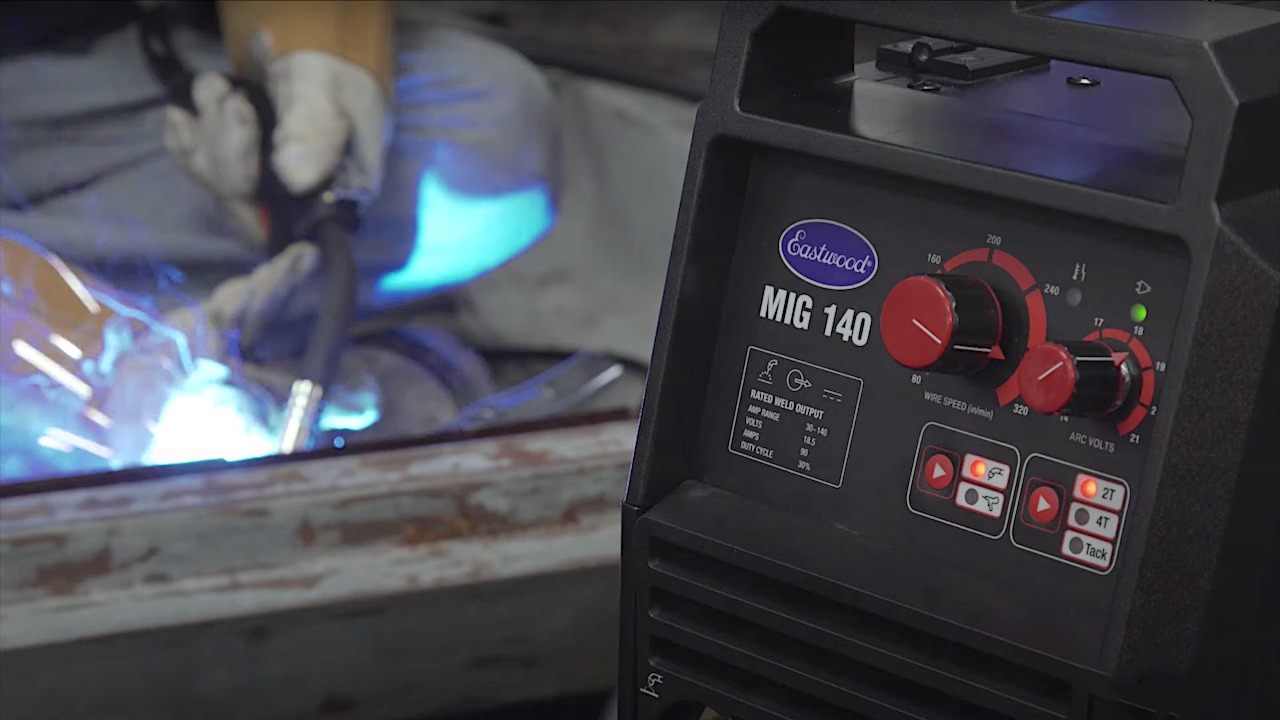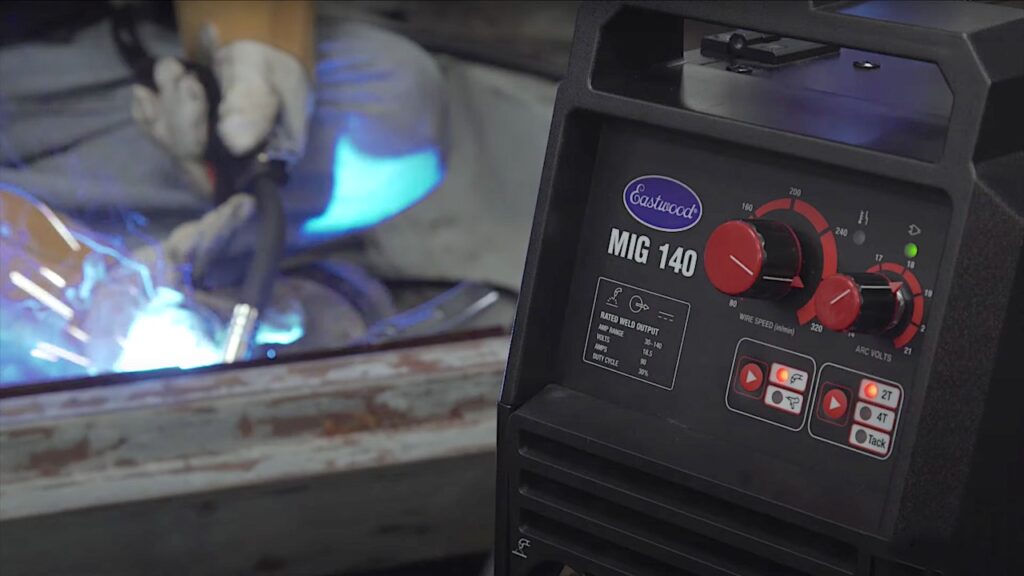 Arc control gives you the ability to control the amount of dig for the best welding result. The MIG 135 offers a high-frequency start for precise arc control and a square wave inverter for accurate aluminum welding.
The machine is designed to give you proper and complete control of your dig, especially when you weld thinner metal. If you're a beginner, you might find it difficult to weld any metal and properly control the device, but with practice, you can properly take care of your welding process.
You also have complete control over the voltage and wire feed speed using the control knobs on the device.
Ease of Use
The Eastwood MIG 135 device offers intuitive, simple controls for novices, DIYers, and experienced welders alike to easily navigate. First, it has two control knobs that are used to control the wire feed speed and the voltage. Since they are both infinite, you have complete control here. 
Another setting to keep in mind, which is also pretty easy to use, is flux core welding. To do this, you have to adjust the polarity of the device, and the MIG 135 makes this as easy as A, B, C. To do this, you would switch the two cables where you see the drive roll, and it doesn't require any additional tools or professional help.
In the front of the welder machine, you would see all the controls that you need. And in the back, the manufacturers have placed the setup chart so you can use the controls the right way, according to the type of metal that you are welding.
Safety Features
The Eastwood MIG 135 has your safety in mind, so you can weld your projects without worrying about electrical accidents and injuries. The welder's duty cycle, as mentioned earlier, gives this device 8 minutes of shut down and only 2 minutes of operation at 9 amps to prevent overheating, so let your welder rest.
There is also a thermal overload protection feature, and this makes sure you don't exceed the duty cycle of the MIG 135 and damage the device. There is also a gas regulator that is used to control the pressure of gas released from the gas bottle. You can attach the regulator to the device and prevent dangerous pressure levels. 
Apart from these, you would have to purchase safety equipment to use when welding, as this device does not come with any safety gear or additional features apart from the ones mentioned above. If you're new to welding, you can visit the closest tool store in your home or check an online store for good safety equipment.
Portability
The Eastwood 135 features a space-saving, lightweight design, and so you don't have to worry about finding room for storage. The portable welder can be stored in small spaces in your garage or tool shed, as it has dimensions of 9.5 x 16.1 x 14.5 inches. 
The compact-sized device has the weight to go with it, only going for 56 pounds. This weight is way less than many other welders with the same functions and power, and it makes it easy to carry the device around and also place it in locations that are convenient for you.
You can buy a welder cart with your MIG 135 if you want to easily transport it from place to place. It would come with safety chains and provide adequate space and security for a gas bottle. The drive roll system is plastic, and although it is less durable than those devices that have an aluminum drive roll, the material makes it more lightweight and easier to carry around.
Warranty
The MIG 135 offers a long warranty coverage and an affordable price, which makes it perfect for novice welders and assures all customers of its quality. You get a three-year warranty from Eastwood if you purchase this particular model, and the manufacturers would repair or replace all components for free if there is a defect in the machine. 
But you need to check the warranty details to know what kinds of damages you can report. For instance, if you damage the machine or repair it without the manufacturer, you might not get warranty coverage.
Not only this but if you decide that this isn't working for you within sixty days after purchasing, you'll be given a full refund. This is another proof that Eastwood has confidence in the quality of the device since you get a full refund. 
What Is Included with the Purchase?
When you buy the Eastwood MIG 135 device, you get other supplementary equipment that adds to the value of the unit and makes it easier. There is a gas regulator with a hose, as mentioned earlier, and other accessories like the 0.023″ steel MIG wire, 0.023″ contact tip, a wire brush, and a switchable drive roller.
If you want to cut through thinner metals than the 3/8-inch provided by this device, you can buy the Eastwood MIG 135 with a versa-cut plasma cutter, offering you enhanced functionality. Eastwood also sells different kinds of accessories, including a welding cart that is 27 inches long and 28 inches tall. You can fit your plasma cutter and welder device in the cart at once.
Key Features
Infinite Voltage and Wire Feed Speed
The Eastwood 135 device gives you infinite control over your voltage and wire feed speed. This feature sets it apart from any other welder devices in the price range and skill level range.
The MIG 135 welder is spool gun-ready, so you can weld aluminum whenever you want. But you would have to spend an extra expense and purchase the spool gun separately.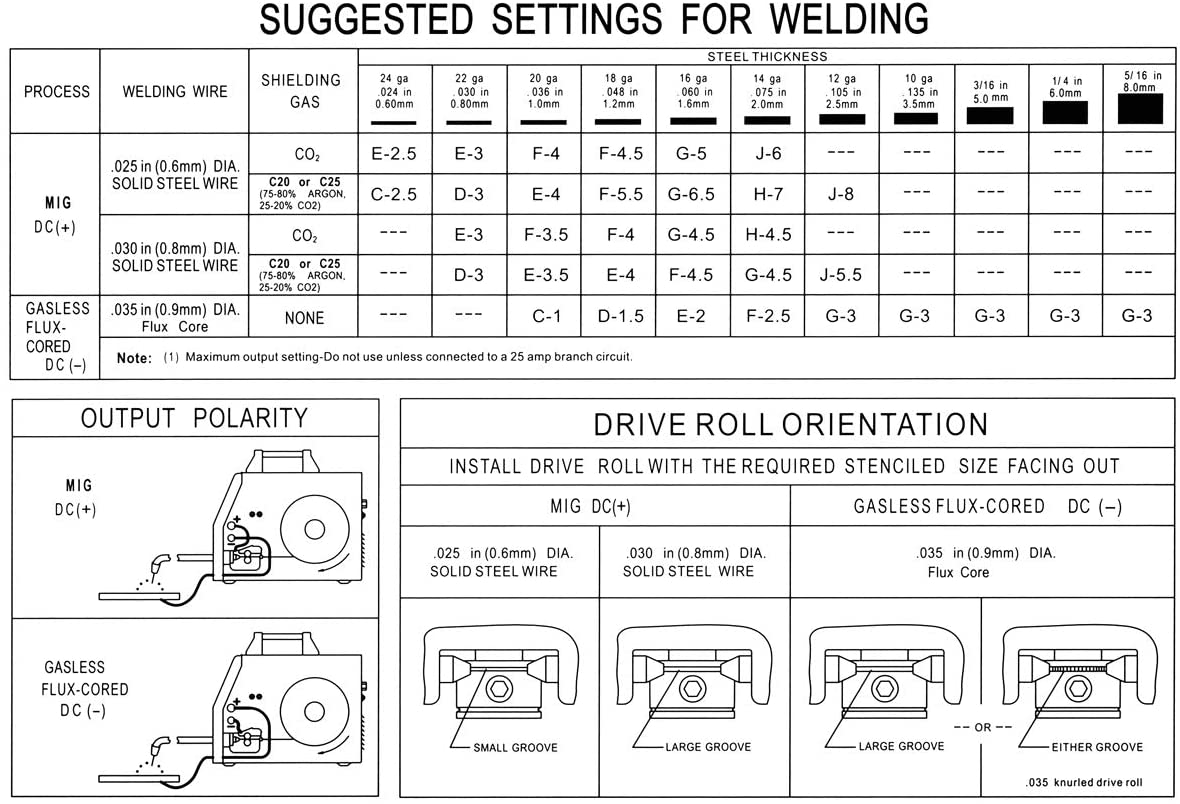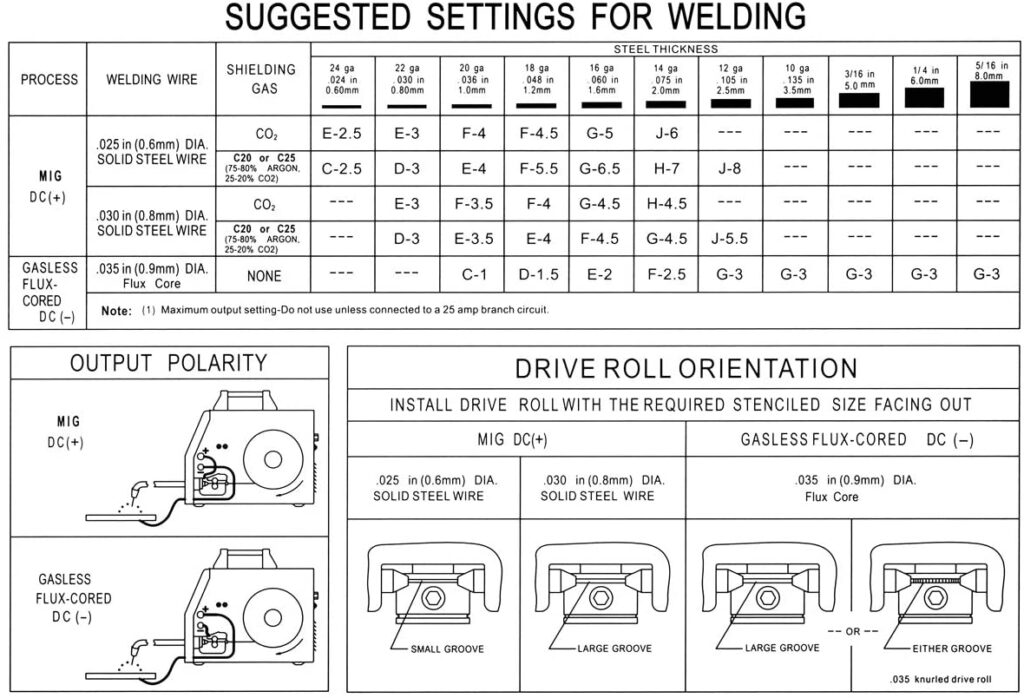 At the back of the MIG 135 machine, you get a quick set chart that includes the right kinds of settings to use for different kinds of metals. The addition is pretty handy and is also regularly excluded from different welder machines.
The Tweco style gun torch means that you can easily find replacement parts for the device, unlike with other torches that come with welder machines.
There is a braided wire strap connecting the jaws for the ground clamp, which is another feature that other welder machines remove to cut costs. But, the Eastwood MIG 135 offers this at an affordable price.
Would This Welder Be Right for You?
If you're a beginner welder who wants to work with mostly thin metals and provide normal MIG and flux core welding, then the MIG 135 is best for you. But for those who want to work with thicker metals consistently and professionally, it's best to look for more powerful alternatives to this Eastwood model.
PROS
CONS

Affordable and compact-sized design.
Infinite voltage and wire feed speed control.
Can weld mild and stainless steel, heavy steel, and aluminum.
It is spool gun ready.
Uses easy-to-find and replace parts.
Includes a quick set chart.
Runs off a generator with an inverter-based power supply.
60-days refund guarantee and 3 years warranty.
Ground clamp jaws have a braided wire strap.
Easy to use for novices, DIYers, and hobbyists.

Spool guns must be purchased separately.
20% duty cycle is low for consistent use.
The knurled roller must be purchased separately.
Is not recommended for professional use.
Conclusion
If you've been wondering whether the Eastwood MIG 135 is the right tool for your welding needs, hopefully, our review has answered that answer question for you. The device exceeds its expectations when you compare the price with the different features, as it even includes different functions that more expensive models don't bother to add.
The Eastwood MIG 135 should be considered by anyone looking for an affordable welder unit to use on a DIY basis and not on a serious and professional basis. And if you want to purchase it for professional use, do so only if you run a small shop that doesn't require welding regularly and for industrial and commercial operations.
References
1.
55 Welding Project Ideas to Build For Home or to Sell - WaterWelders
Do you love to DIY but need a bit of creative inspiration? Look no further. We've got 55 welding project ideas you can build for many purposes.