Weld Zone is reader-supported. We may earn a commission through products purchased using links on this page. Learn more about our process
here
According to data compiled by Zippia, there are over 400,000 welders in the U.S today. This career requires on-the-job training and the right welder. MIG welding has been around since 1949, so it is no surprise that there are hundreds of MIG welders on the market.
Both Hobart and Lincoln have established an excellent reputation within the welding community. Whether you're a pro or an amateur welder, these brands offer some solid product options that can meet the rigorous demands of any project. But which one is best?
In this article, we'll make a head-to-head Hobart 190 vs Lincoln 180 comparison, looking at what's included in each kit and both the pros and cons of each model to help you to have all the details you need to make an informed purchase decision.
Quick Overview Table
Here we'll present the specifications for both models, so you can quickly see the similarities and differences in a Hobart 190 vs Lincoln 180 comparison table.
Hobart Handler 190
Lincoln Easy MIG 180
Process
MIG, Flux Core
MIG, Flux Core
Input Voltage
220V/230V/240V
208V/230V
Amperage
25 – 190A
30 – 180A
Duty Cycle
30% @ 130A (21.5V)
30% @ 130A (20V)
Voltage Control
7 positions
5 positions
Weldable Metals
Mild steel, stainless steel, aluminum
Mild steel, stainless steel, aluminum
Wire Feed Speed
40 IPM – 740 IPM
50 IPM – 500 IPM
Wire Spool Size
4-in. & 8-in.
4-in. & 8-in.
Material Thickness
24 ga – 5/16 in.
24 ga – 3/16 in.
Wire Thickness
.023 – .035 in.; .030 – .045 in.
.025 – .035 in.; .030 – .045 in.
Dimensions
12.4 x 10.6 x 19.5 in.
14 x 10.1 x 18.6 in.
Weight
68 lbs.
56 lbs.
Warranty
5/3/1 years
3 years
VIEW ON AMAZON
VIEW ON AMAZON
VIEW ON NORTHERN TOOL
VIEW ON NORTHERN TOOL
Hobart Handler 190
The Hobart Handler 190 is one of the simplest welders to set up and use, making it a great option for newbie welders. There are no complicated controls to get to grips with, yet the wire feed and arc is more than sufficient for experienced welders. However, one thing to note is that this welder uses a 240-volt power supply only, so you will need to have an outlet with at least 30-amp circuit breaker protection available.
This welder can put out 25 to 190 amps, with the capability to weld stainless steel from 24 gauge to 5/16 inch. So, if you are looking to weld thicker, industrial stock, this unit will not be sufficient. Another potential issue is that the included gas regulator is not recommended for use with C100.
If you prefer to use C100 gas, you need to be aware that the carbon dioxide gas can create a frosting action that could damage the regulator. This means that you will need to purchase a regulator designed for pure carbon dioxide to use with this unit.
The Hobart 190 is also a decent option if you need to move your welder around. It weighs 68 pounds, making it light enough to move around, but it feels more substantial compared to portable units. While it may not be the best option if you frequently need to move the welder throughout the day, it does have some flexibility if you do need to change your workshop layout.
What's Included in the Kit
The Hobart Handler 190 has a decent starter kit included with your purchase. This includes a 10-foot HR-100 gun, 10 foot work cable with clamp, sample spool of 0.03 inch self-shielding flux core wire, 0.03 inch contact tips, built in gas solenoid valve and dual gauge regulator with gas hose, power cord and plug, Quick Select drive roll for 0.024 inch or 0.03 inch solid wire and 0.03 inch flux cored wire, owner's manual and welding guide with material thickness gauge.
Pros
Simple Control Panel: Hobart has designed this welder to be easy to use and it features a clean layout with no digital displays or lights. There is simply an on off switch and two knobs. Hobart has even printed the settings chart inside the wire compartment door, so you have the information you need within easy reach.
Good Weld Quality: The welder offers reliable wire drive and a smooth artc to allow newbies or experienced welders to lay quality beads with the minimum of fuss.
Spool Gun Ready: The Hobart Handler 190 has internal circuitry, so it is immediately ready to accept a spool gun. You simply need to plug in your spool gun, and flip the switch inside the wire compartment. This makes it quick and easy to switch from steel to aluminum or vice versa.
Impressive Wire Feed: This welder has a smooth wire feed mechanism that is both reliable and simple to set up. The Quick Select roller also makes it effortless and toolless to implement a changeover. There Hobart 190 also features electronic protection for the wire feed motor. In the event that the motor begins to overload, it will automatically cut off. You just need to release the torch trigger and wait a few moments for it to automatically reset.
Cold Wire Safety: Another safety feature is the cold wire safety. Your wire is electrically cold when it is not in use, so you won't accidentally cause a short or unexpected arc. the wire will only become hot when you pull on the torch trigger.
Impressive Warranty: Hobart supports this welder with a 5/3/1 warranty. This means that the stabilizers, rectifier and transformer are covered for five years, the PC boards, drive systems and generators are covered for three years and the MIG gun has one year of coverage.
Cons
Limited Voltage: The unit can only operate on 240 volts, so if you had planned on using a 120 volt outlet, this will not be sufficient.
Not C100 Compatible: It is not recommended to use the regulator with C100 gas. If you prefer working with C100, you will need to purchase separately a suitable regulator, which will bump up the initial cost.
No Overload Light: While there are safety systems to protect the motor in the event of an overload, there is no thermal light to let you know you're getting ready for a cool down break. Your first indication of an overload is that the motor will cut out, which can be inconvenient if you're in the middle of a project.
Fairly Heavy: At 68 pounds, it is possible to move the Hobart 190 around your workshop, but it is certainly not the lightest MIG welder on the market. If you want a more flexible unit that you can simply pick up and carry to work anywhere, this is not the right option for you.
Lincoln Easy MIG 180
The Lincoln Easy MIG 180 is an industrial style welder that is designed to reliably weld aluminum and thick steel with an output range of 30a to 180a, which makes it ideal for light industrial Flux cored and MIG welding.
This welder can weld up to 3/16-inch-thick materials and should be more than enough to accomplish welding jobs whether you're a hobbyist, backyard mechanic or fabricator. It can be run on either 230v or 208v or you can use a generator with a maximum 6900-watt capacity.
The Lincoln 180 has a tool less design, which makes it easy to make power input changes or mount wire spools or make polarity changes.
As with the Hobart, the Lincoln 180 is spool gun ready, which you can use rather than the MIG gun. However, this model features Diamond Core technology that allows you to create a low spatter or out of position arc at a given wire feed speed as needed. The dual gear driven drive ensures positive traction, while the patented split wire guides deliver optimal wire alignment. The torque has also been improved with a large industrial drive motor for trouble free performance.
What's Included in the Kit
When you unpack the Lincoln 180, you'll find almost everything you'll need to start welding. You will need a welding helmet, gloves and a shield gas bottle for MIG welding. However, the supplied kit does include Magnum Pro 100L 10 ft gun, gas and gasless nozzles, work cable and clamp, adjustable gas regulator and hose, cable liner, spindle adapter, wire guides (0.025 to 0.035 and 0.035 to 0.045 inch), contact tips in 0.025 and 0.035 inch, and sample spools of 0.025 SuperArc MIG wire and 0.035-inch Innershield Flux Cored wire.
The Lincoln 180 is also supplied with a learn to use DVD and manual that is easy to follow with great illustrations to help newbies find their way.
Pros
Resistant to Vibrations and Shocks: The Lincoln 180 has been designed to provide a strong and rugged unit that is resistant to vibrations and shocks. This makes it tough enough to handle most welding tasks.
Easy Set Up: As with the Hobart, the Lincoln 180 is easy to set up. It is spool gun ready and even newbies should find it quite simple to set up. The kit even includes sample rolls of wire and tips, so you can get started straight out of the box if you already have gloves and a welding mask.
Low Spatter Higher Arc Performance: This model offers welds with low spatter and higher arc performance, for a smooth and solid finish.
Cons
Quite Heavy: As with the Hobart 190, the Lincoln 180 is a substantial 50+ pounds. While it is a little lighter than the Hobart, you would still struggle to pick it up and move it frequently as you work. So, if you're looking for a portable model, this is not the right choice either.
Small On Off Switch: The on off switch is fairly small and can be tricky to find when your visibility is obscured. It would be better if the switch could be a bit larger for easier use.
Slightly Lower Output Power: If you're looking at a specific Hobart 190 vs Lincoln 180 comparison, it is right there in the names. The maximum output power with the Lincoln is 180, so you may struggle to work with thicker materials.
Hobart Handler 190 vs. Lincoln Easy MIG 180
Both these welders are designed to be simple to use for beginners, while offering decent performance for the more experienced user. So, let's examine some comparison areas in a little more detail.
Voltage Setting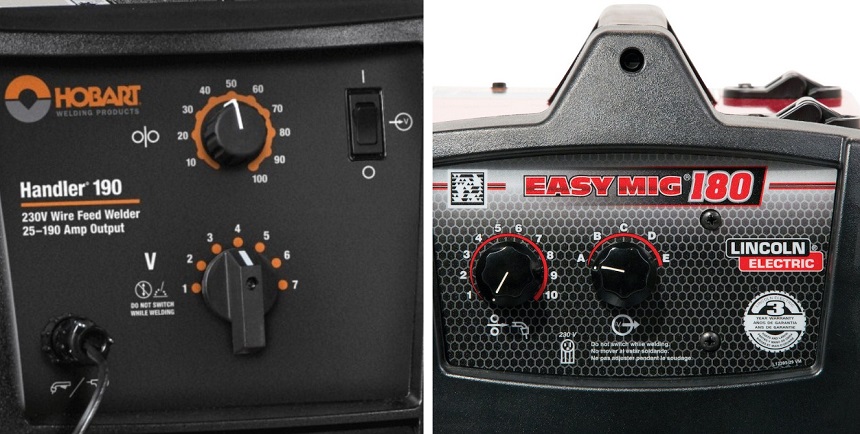 Both of these models are fairly powerful and versatile. However, there are a few key differences. The Lincoln 180 has some advanced electronics which allow it to run out of the box on 208v. On the other hand, the Hobart Handler 190 offers seven voltage options that allow finer control of the arc with better control over wire speeds. The Lincoln has five options, which gives the Hobart the edge when using thicker stock or thin sheet metal.
If you prefer to run off a generator, the Lincoln 180 can run off one with 6900 watts, while the Hobart 190 requires a minimum of 7000 watts.
Weldable Metals
This is an area where there is very little to separate the two models. You can weld or cut stainless steel, aluminum, mild steel and thinner materials. Both models also allow you to experiment with different flux core wire thicknesses. There is very little difference in the ARC performance and duty cycles.
Material Thickness
Both machines can weld or cut thin or thick materials, but the material thickness of the metals will vary. The depth the machine can weld or cut in one pass varies. For example, the Hobart 190 cuts 24 gauge to 5/16 inch, while the Lincoln 180 can cut 24 gauge to 3/16 inch. So, if you are looking for more flexibility to weld or cut in one pass, the Hobart has the edge.
Amperage
The Hobart 190 has a more flexible amperage range at 25 to 190 amps compared to the 30 to 180 amps offered with the Lincoln 180. Since higher amperage offers deeper penetration, it makes it possible to work cleaner and faster. However, the difference in the amperage range is so small, it should not impact performance for most users.
Duty Cycle
Overheating can be a welding issue and manufacturers have provided a way to rate the unit's ability to handle the load. This is called the duty cycle and it provides an indication of how long you can weld at given output levels.
The duty cycle stated for each unit is 30% at 130 amps, but what does this actually mean? In a 10-minute period, you will be able to weld with an output of 130 amps for three minutes. The unit will then need to cool for 7 minutes to create the 30% rating.
As you increase the output amps, the duty cycles will go down and vice versa. Hobart provides a graph of output amps vs duty cycle on its cut sheet to help you to understand how the changes will impact the welding performance.
Welding Wires
Both welders come with cast aluminum wire drives that allow you to change the drive roller without tools to accommodate different size wires. There is also tension control with markings to help you set the wire tension properly.
The Hobart 190 has a triple groove roller that allows you to push in and twist the roller to choose the proper size. There is no need for tools or removing the roller. This can accommodate 0.023 inch to 0.045 inch.
The Lincoln 180 has a dual groove roll. You need to remove the drive roll and flip it to change from 0.025 inch to 0.030/0.035 inch.
Both models have infinite control on the WFS or wire feed speed. So, you can set the dial at any point between the minimum and maximum levels. However, the Hobart has a better wire speed range of 40 to 740 ipm, while the Lincoln can feed at 50 to 500 ipm.
Controls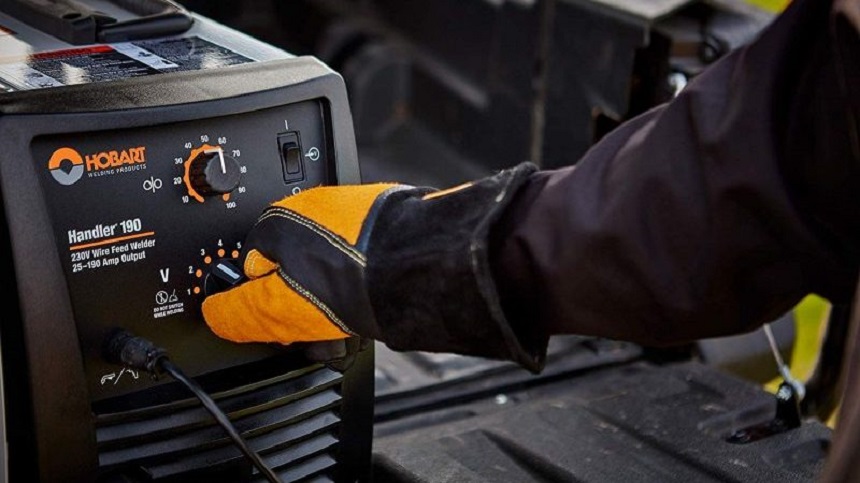 Both welders feature quite straightforward controls with a basic on off switch and two control knobs. One of the dials selects the voltage, while the other controls the WFS. With either welder, you can adjust the controls even if you're wearing your gloves, although the on-off switch on the Lincoln is a little small.
The only real difference between the controls is the orientation. The Hobart has vertical dial stacking, while the Lincoln has the knobs side by side. On the Hobart, the supplementary electrical protection can be reset with the on off switch, while the Lincoln does not have this feature, as the reset button is on the back of the unit.
Ease of Use
Both models are designed to provide great ease of use. They are both beginner friendly, while offering the performance power expected by a more experienced welder. There are no complicated controls or settings, as both have just two adjustable knobs and an on off switch, reducing the potential learning curve.
Weight and Portability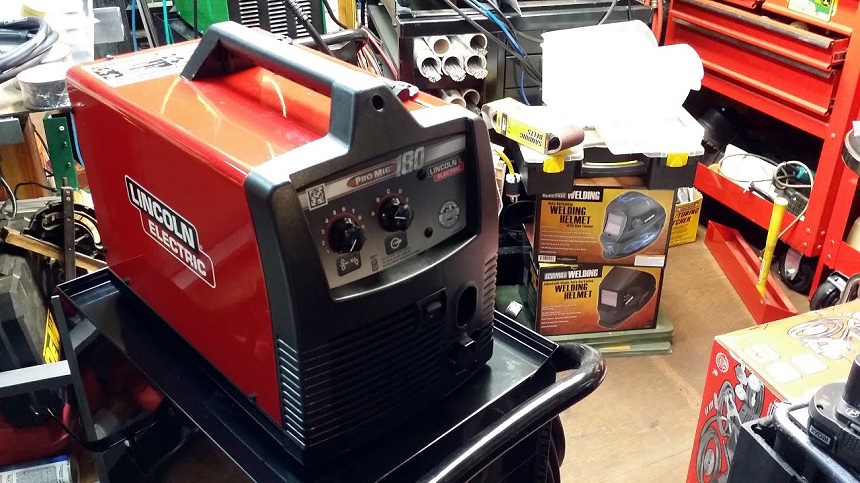 Both models are quite substantial, weighing over 50 pounds. The Lincoln is the lighter option, but neither is particularly portable. While it is possible to lift and move the welder, if you do need to have a portable welder, you will need to consider a trolley or cart.
Thermal Protection
Both units have a number of protections including wire drive motor protection and output overload protection. Both the Hobart and Lincoln feature thermal protection. The units monitor power supply temperatures and will automatically shut down if it becomes too hot. You will then just need to wait for the internal fans to sufficiently cool the unit and reset the welder.
Spool Gun Capability
Both models are spool gun ready, so you can swap out to a spool gun without needing any tools.
Price
Depending on the specific retailer, you're likely to find that the Lincoln 180 costs a little less compared to the Hobart 190. However, with special promotions and sales, you may find this is not the case. So, if you have a particularly tight budget, it may be worth your while to shop around and check the prices for both to find the best deal. If the welders seem too costly to you anyway, check out our reviews of the best MIG welders under $500.
Warranty
Lincoln supports the Easy MIG 180 with a three-year warranty, apart from the MIG gun and gas regulator which are warranted for 90 days and one year respectively. There is no coverage for wear and tear on the cables.
Hobart has a tiered warranty structure. The 5/3/1 warranty breaks down as five years on the transformer, three years on the control boards, regulator and wire drive system and one year on the MIG gun, relays and contactors.
So, while it may cost a little more, the warranty for the Hobart is far more comprehensive.
So, Which to Choose?
The Lincoln 180 is simple to use and comes supplied with more in the initial kit including a DVD which can help newbies get to grips with welding. This model is also a little easier to set up and you can run it on pure CO2, as the regulator is compatible with this gas.
On the other hand, if you are more interested in control, the Hobart 190 does offer more choices in voltage and WFS. It has a broader amp range. Both models have good wire feed drives, but the Hobart Quick Select is more user friendly and it also has a more impressive warranty.
So, if you're not on a particularly tight budget, you may find the Hobart offers better value for money.
Final Thoughts
Hopefully, this Hobart 190 vs Lincoln 180 comparison has highlighted that both these models are good welders with similar characteristics. One of the key differences is the inputs as the Lincoln 180 takes 120 to 240 volts, while the Hobart takes 240 volts.
If you're a beginner with no budget constraints, the Hobart 190 does have greater potential for DIY projects and more complicated household welding tasks in future. However, if you are looking to work on commercial, heavy-duty tasks, you may prefer the Lincoln 180. It also has more in the box to get you started.
So, take a little time to think about what you need from your welder and what limitations you may have before you make your final purchase decision.