Weld Zone is reader-supported. We may earn a commission through products purchased using links on this page. Learn more about our process
here
Hobart and Miller are two different welding machine brands, but if you get into the details of their histories and their ownership, you find they're very similar. For instance, they were both started in the early 1900s and are currently owned by the same parent company, namely Illinois Tool Works.
Although they feature different production processes, some of their more popular offerings are also similar. In our Hobart Handler 210 vs Miller 211 review, this was clear as day. Nonetheless, it could also be said that the two welding machines are different as well. Consequently, if both options were placed in front of you, picking one would prove a challenging task.
This is why we went to the trouble of picking out the similarities, differences and expounding on them so you can have a clearer picture of the two machines. If you're a welder and these two devices have caught your eye, this information will help you chart a way forward with regard to a potential purchase.
Quick Overview Table
Below is a quick overview table comparing the two welding machines. The sections below the table clarify any information that isn't immediately clear to you as a potential buyer of either machine.
Hobart Handler 210MVP
Miller Millermatic 211
Process
MIG, Flux Core
MIG, Flux Core
Input Voltage
110/115/120 V 220/230/240 V
120V / 240V
Amperage
25 – 140A (115V)
25 – 210A (230V)
30 – 130 A
30 – 230A
Duty Cycle
20% @ 90A (115V)
20% @ 115A (230V)
20% @ 115A (115V)
40% @ 150 A (230V)
Weldable Metals
Mild steel, Stainless steel, Aluminum
Mild steel, Stainless steel, Aluminum
Material Thickness
1/4 in. –  3/8 in. (mild steel)18 ga. – 1/4 in. (aluminum)
24 ga. – 3/8 in. (mild steel)24 ga. – 3/16 in.; 18 ga. – 3/8 in. (aluminum)
Wire Thickness
0.023 – 0.035 in. solid wire
(0.030 – 0.045 in. flux-cored wire)
0.024 – 0.035 in. solid wire(0.030 – 0.045 in. flux cored wire)

 

Wire Feed Speed
40 IPM – 770 IPM
60 IPM – 600 IPM
Dimensions
12.4 x 10.6 x 19.5 in.
12.5  x 11.25 x 20.5 in.
Weight
79 lbs.
38 lbs.
Warranty
5/3/1 years
3 years
Hobart Handler 210MVP
Typically, welding machines are designed to work for a specific segment of the market. For instance, they may be made to work for newbies, and the features will reflect that intent. As such, they will come with easy-to-use controls, a low price point, and probably limited functionality so they can help ease the consumer into the trade.
On the other end, you have professional welding devices that are expensive, have a wide array of features to match, and can handle huge workloads. If you were to classify the Hobart Handler 210MVP using these parameters, it would fall smack in the middle of the two extremes.
You could use it even if t's your first time getting into welding. However, it also works if you're a professional and has the pros and downsides to match. Some of the 210MVP's pros and cons, especially in comparison to the Millermatic 211, are as stated below.
Pros
More affordable as you can get it for about $600-$700 less than the alternative.
Both the technology used and the machine have proven reliable over time.
The warranty is an industry leader where welding machines are concerned.
The welder's controls are arguably some of the most intuitive in the market.
Cons
This welder will likely prove a hassle to move from place to place due to the weight.
Its functionality when welding aluminum is relatively limited.
The output limit on the high end is lower than that of the alternative.
A lower duty cycle.
Miller Millermatic 211
As for the Miller Millermatic 211, it's marketed as a professional welding device with the price and features seemingly matching that intent. At first glance, the similarities between the 211 and the Handler 210MVP are pretty visible, with the differences not being as apparent. This begs the question, why is the 211 considered a pro device and priced as such? The answer to that becomes increasingly apparent as you take a closer look at what the device has to offer.
What may have seemed like minor disparities starts to show up as extra functionality that may be crucial in the hands of a master welder. Does it provide good value for money? You'll find out below, but first, here are some pros and cons.
Pros
Inverter technology makes the machine a lot lighter and more portable without sacrificing functionality.
It welds up to 3/8" aluminum in a single pass.
Incorporates fan-on-demand technology that saves on power and reduces contaminants in the machine.
The auto-set feature can make use and control a lot easier.
The interface can offer you extra control over welding parameters.
Cons
It's a lot more expensive than the handler 210MVP.
The inverter welding technology is yet to be pitted against the test of time.
In terms of manual control, there are many more nuances to master and learn compared to the Hobart machine.
Hobart Handler 210 vs. Miller Millermatic 211
Theoretically, both the Hobart Handler 210 and the Miller  Millermatic are for the same market. However, one is priced at under $1000, while buying the other will cost you a little over $1500. Are the differences in features worth this difference, and if so, which one is a better purchase?
Depending on your budget and the value you place on certain features, the answer to whether the difference in pricing is worth it could be yes or no. As for which welder is a better purchase, the answer could be either depending on the features, the value you place on them, and the price.
The following breakdown and comparison between the Hobart Handler 210 and Miller Millermatic 211 should help you decide.
Process
In terms of process, the Handler 210 and the Millermatic 211 are similar since they're both MIG welding machines. Statistics by The Welding Institute Trusted Source Metal Inert Gas (MIG) Welding - Process and Applications - TWI The principles of MIG welding are outlined including process characteristics, metal transfer modes, shielding gas types and process applications. www.twi-global.com assert that MIG is used widely in industrial applications and even accounts for more than half of all weld metal deposited.
Considering that there are three other welding processes, this is quite impressive and means that most industry professionals prefer MIG over the three other alternatives. That said, MIG is not the only welding process you can use with these two machines. You can use Flux-Cored welding as well to add versatility.
Consequently, there's nothing to separate the two welding machines where the working process is concerned.
Voltage Setting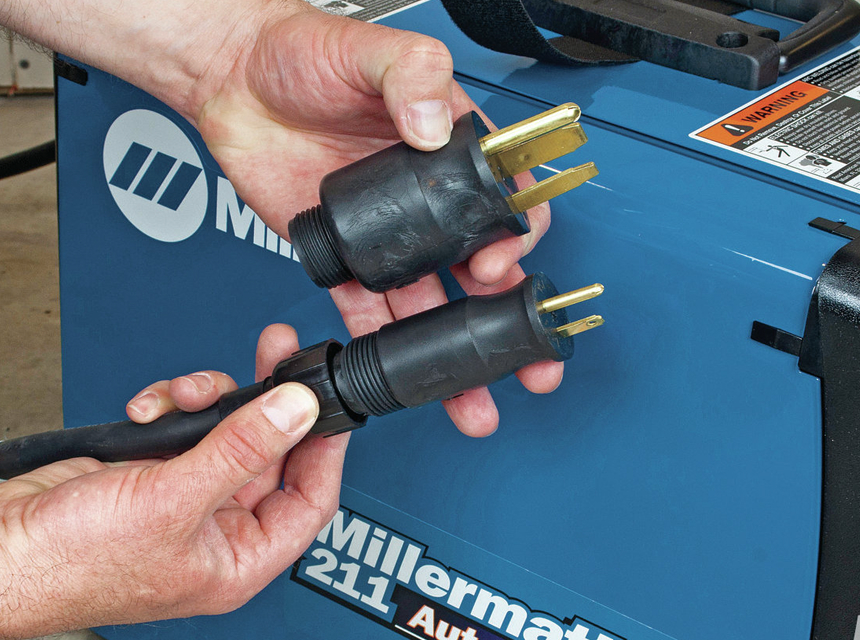 The voltage settings are another area where the Miller Millermatic 211 overlaps with the Hobart Handler 210. This may be one of the areas where the influence from the parent company affects both options. The two welders come with interchangeable plugs that work with either a 120V outlet that's standard in American houses and a 240V socket that is more suited to handy work, tools, heavy machinery, and welding.
Notably, the input voltage you're using will affect things like the amperage and duty cycle that we will get into as we go along.
Weldable Metals
If you have the Millermatic 211, you can take on welding projects that involve mild steel, stainless steel, or aluminum. The same is the case if you pick Handler 210MVP. As such, even in this section, neither machine is able to pull one over the other.
Material Thickness
The material thickness is where we finally start to see some differences. The amperage limit on the low end for the Handler 210MVP is lower than that of the Millermatic. Consequently, it should theoretically provide better performance when welding thinner metals. However, this is different from what actually happens when you use these two welding machines.
The Hobart 210MVP will only weld mild steel as small as ¼". Any smaller and the weld will likely burn through the metal. The Miller 211, on the other hand, welds even 24 gauge mild steel. This theme is repeated even when dealing with aluminum. Surprisingly, the 211 can weld 24 gauge aluminum while the MVP's limit is 18 gauge aluminum which is slightly larger.
One notable aspect of gauge measurements is that the higher the gauge, the smaller the metal. In this case, 24 gauge is smaller than 18 gauge aluminum.
Also, the Miller device wins over the Hobart alternative even where the upper size limit of welding metals in a single pass is concerned. When dealing with mild steel, both welders can only weld sheets as thick as 3/8".
As for aluminum, the Hobart handler maxes out at ¼". The Miller device, on the other hand, maxes out at 3/8" metal thickness. This is expected since the upper amperage limit of the Miller Millermatic is higher than that of the Handler.
Welding Wires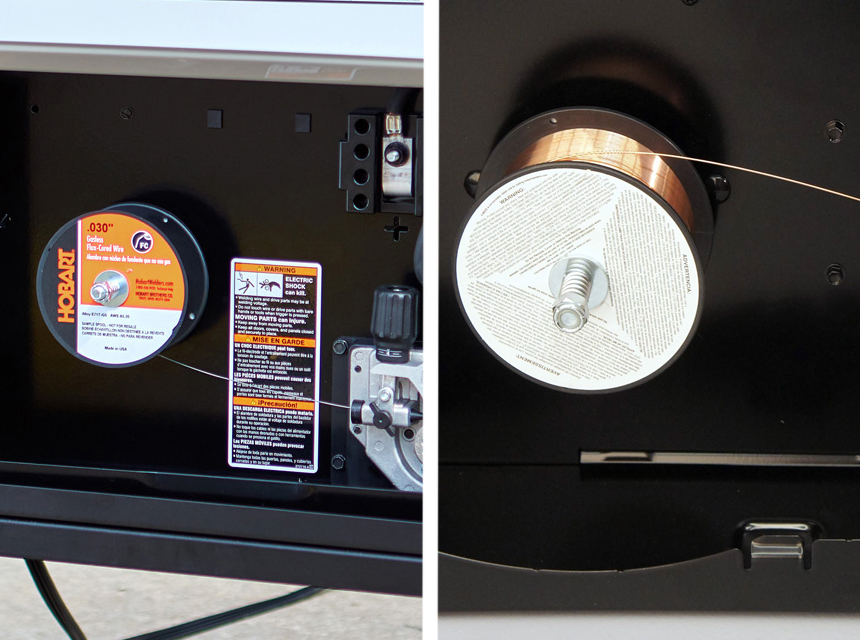 The welding wires you can use are typically determined by the drive roll grooves in the design of the machine. However, the two options on these welding machines are almost identical, especially since they both offer three grooves. Two are for solid metal wire, and you can switch between them quite easily. The third is for Flux-cored wired.
Nonetheless, despite looking almost identical from the outside, there is a difference, albeit a tiny one. The MVP accepts 0.023-0.035 in. wire. Conversely, the Millermatic accepts 0.024-0.035. The MVP, therefore, accepts a broader range of wire diameters than the alternative.
As for whether this minor difference is enough to influence your purchase, we leave that decision to you. Nevertheless, the MVP goes further ahead where the wire feed speed range is concerned. With it, you get a range of between 40 inches per minute and 770 IPM. If you're a skillful welder, you can make use of this advantage over the Miller Millermatic 211's 60 IPM – 600 IPM.
Amperage
We've touched on the amperage/output range in some of the sections above since it affects other areas of the welding machine's performance. When using 120V outlets, the Handler 210 and Millermatic 211 offer outputs of 25-140A and 30-130A, respectively. Consequently, the former has better output performance when using standard household outlets.
Typically weld penetration increases with a higher amperage making this one of the tell-tale signs of the machine's performance. Nevertheless, the situation is flipped when using 240V outputs. The Handler and Miller have 25-210A, and 30-230A output ranges, respectively. This difference might account for the Miller 211's ability to weld thicker aluminum sheets than the Handler.
Consequently, if you deal with a lot of aluminum in different thicknesses as you will if you're a welding professional, the Millermatic may be worth the extra few hundred bucks. If you're a hobbyist, the higher amperage stats necessary for welding thicker aluminum may not make much difference, especially if you don't plan to use the material often in your projects.
Duty Cycle
If you're a professional, the duty cycle is another reason you should pick the Millermatic over its counterpart. Like the amperage, each of these two welding machines offers different performance levels depending on the power input used. If you use a 120V socket, both machines perform less optimally than when you use 240V alternatives.
Starting with the Hobart Handler, its duty cycle is 20% @ 90A when using a lower voltage socket. If you move to a higher output socket, you get the same 20% duty cycle with a 115 amp output. This is enough for some industrial applications, and you can likely use it for some larger projects. Nevertheless, it's not very impressive when pitted against the Millermatic.
The Miller Millermatic 211, on the other hand, comes with a 20%@115 amp when plugged into 120V outlets. If you upgrade your wiring and sockets to output more power like in most welding shops, the duty cycle is 40% @ 150A for the 211.
Notably, according to the American Welding Society Trusted Source Duty Cycle | American Welding Society Education Online Is the percentage of time that a power source or its accessories can be operated at rated output without overheating. The test period for arc welding is ten minutes. awo.aws.org , the duty cycle is how much time a welding machine can be used at a particular output without overheating. This number is usually given in percentages, as shown above, and typically applies to a 10-minute cycle.
For instance, the 211 can be used 40% of the time, which is four minutes with a rated output of 150A when connected to a 240V socket. The other six minutes are spent resting.
Conversely, the 210MVP has a 20% @115A duty cycle when plugged into a 240V socket. As such, it will work for two-minute periods, rest for eight minutes at a lower-rated output of 115A.
If you're a professional, the Millermatic makes more sense since it will work for longer and need shorter rest periods. Also, this is arguably one of the biggest benefits the Millermatic has over its counterpart.
Controls
Most welders prefer simple-to-use controls on their machine, and the Hobart Handler fulfills that need to a tee. This is also why it's usable in the hands of both newbies and professionals. With only two knobs included in the control panel, learning how to work them is easy.
Conversely, Miller's option doesn't seem to be the most intuitive. Yes, it does come with an auto-set function that might simplify use, but if you intend to set up your device manually, it will be more of a challenge.
There are three knobs, all of which feature multiple functions. If you can learn how to use them effectively, you'll have better control over how your welds turn out. Nevertheless, a chart is included on the body of the device that can show you recommended settings to work with. This feature is included in the Handler 210MVP as well.
Ease of Use
The ease-of-use ties back to the complexity of the controls, and as such, the Handler 210MVP is the better pick. Nevertheless, with the auto-set function and a chart to help determine the best settings when you're using manual mode, the Miller Millermatic is not far behind.
Weight and Portability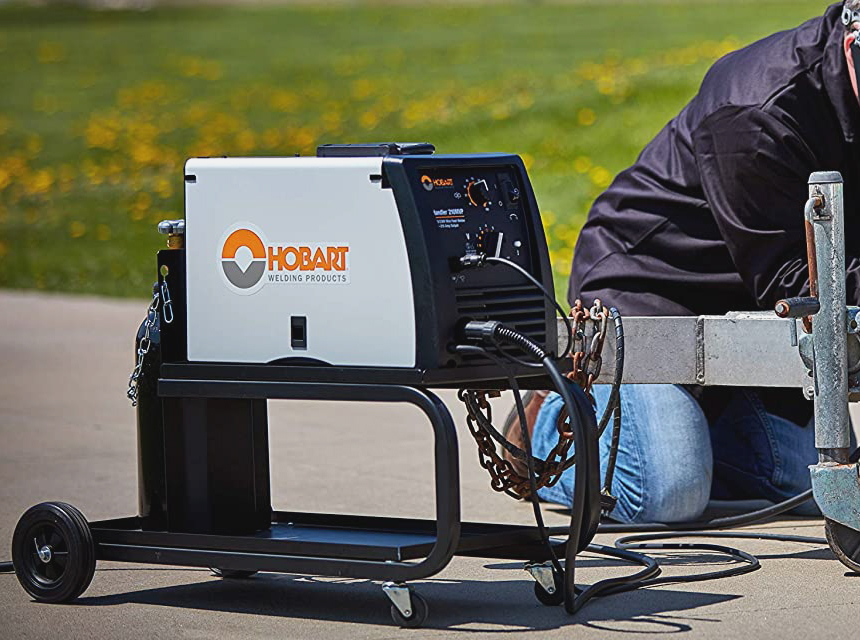 The weight of the Miller Millermatic 211 doesn't match the fact that it's a pro device. It only weighs 38 lbs. and by contrast, the Handler 210MVP weighs 79 lbs. This difference is made possible by the technology used in both devices, although a few other factors chip in as well.
In the Handler option, you find a transformer which is pretty old technology considering it was used in welding machines even in the 1900s. They're quite reliable since they've been improved over the years and have withstood the test of time. Nevertheless, they are heavy, and this makes the 210MVP less portable. That said, if you have a cart or you don't have to carry the device over long distances, such as when you have a car, it's possible to take it to multiple job sites and back to your workshop if necessary.
The inverter technology used in the Miller's welding machine weighs significantly less and makes the device more portable.
Thermal Protection
Both machines react the same way to a thermal overload caused by exceeding the duty cycle or other factors. The machines will shut down with a blinking overtemperature light included in both to let users know why the machine is off.
Also, both options can self-reset, meaning that when the light goes off, you don't have to push another button or flip a switch before you can resume using the device.
Price
As for the price, you can save a few hundred bucks by going for the MVP over the Millermatic. That said, both options seem like great value for money even though one is more expensive than the other.
So, Which to Choose?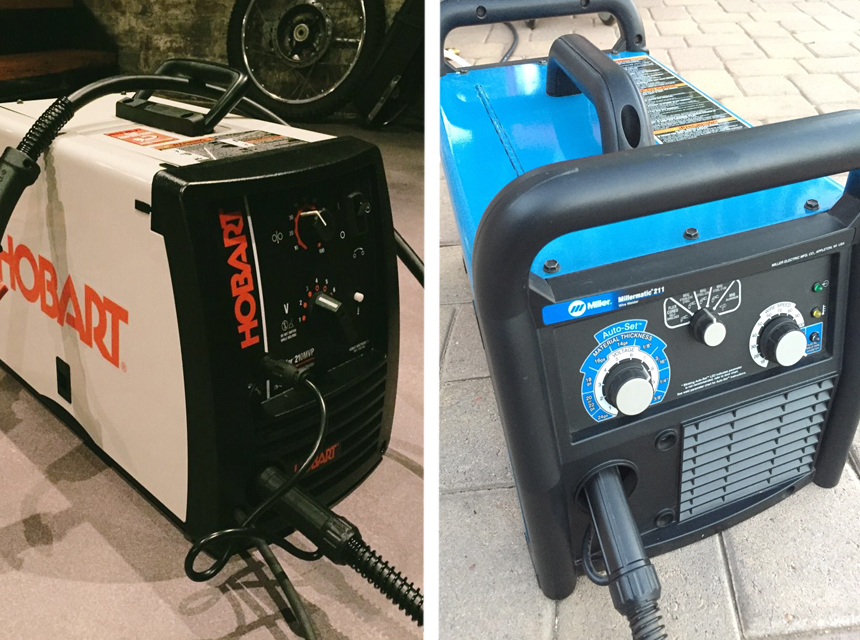 As we asserted above, both options are great value for money. However, you'll likely have to choose one. If you're a professional, there's no doubt that the Millermatic works better for your needs. It works longer, is lighter, and can handle some huge workloads without breaking a sweat.
If you're a hobbyist or a professional with a tight budget, the MVP still gets the job done. It might take longer to complete some projects, but the key takeaway is that it's capable of handling a fairly large workload.
Both options are great and appropriately priced, and you only need to decide which option works for both your wallet and your needs.
Final Thoughts
In our Hobart 210 vs Miller 211 review, we found both machines to be quite impressive. They're great options for their intended market segments, and potential buyers can choose either depending on their budgets and needs. That said, if you're a beginner welder, the 210MVP seems more appropriate, while the Millermatic works best for professionals with a larger budget and more demanding project requirements.
References
1.
Metal Inert Gas (MIG) Welding - Process and Applications - TWI
The principles of MIG welding are outlined including process characteristics, metal transfer modes, shielding gas types and process applications.
2.
Duty Cycle | American Welding Society Education Online
Is the percentage of time that a power source or its accessories can be operated at rated output without overheating. The test period for arc welding is ten minutes.