Weld Zone is reader-supported. We may earn a commission through products purchased using links on this page. Learn more about our process
here
Hobart is almost always included in the lists of top welding brands in the market. Some users have even placed it among the top three, which means that it has a lot going for it in its offerings. This is especially true since it focuses more on MIG welding and has built most of its MIG welders to near perfection.
Furthermore, given that these MIG welders tend to be affordable, the price to performance ratio of the devices seems to be worth it for most buyers. This brings us to the Hobart 190 vs 210 review and comparison because these two devices are not far apart in terms of pricing. As such, potential buyers of either option have to consider the alternative to determine whether they're getting value for money or if they could get a better alternative for their budget.
Quick Overview Table
If you're familiar with welding machine terminology and features, the quick overview table below summarizes what to expect from our Hobart 210 MVP vs Hobart 190 comparison. This includes details on the performance of each, how they compare in terms of build quality, safety features, construction, power requirements, and more. Nevertheless, there are more details on our findings in the sections that follow. As such, even if you don't understand the main differences from our quick overview table, the rest of the write-up will help clear things up.
Hobart Handler 190
Hobart Handler 210MVP
Process
MIG, Flux Core
MIG, Flux Core
Input Voltage
220/230/240 V
110/115/120 V 220/230/240 V
Amperage
25 – 190A
25-210A
Duty Cycle
30% @ 130 A
30% @ 150A
Weldable Metals
Steel, Stainless, Aluminum
Steel, Stainless, Aluminum
Material Thickness
24 ga – 5/16 in. (mild steel)
1/4 in. –  3/8 in. (mild steel)
Wire Thickness
0.023 – 0.035 in. solid wire
(0.030 – 0.045 in. flux-cored wire
0.023 – 0.035 in. solid wire
(0.030 – 0.045 in. flux-cored wire)
Wire Feed Speed
IPM Range 40 IPM – 740 IPM
IPM Range 40 IPM – 770 IPM
Dimensions
12.375 in. x 10.625 in. x 19.5 in.
12.375 in. x 10.625 in. x 19.5 in.
Weight
68 lbs.
79 lbs
Warranty
5/3/1 years
5/3/1 years
Hobart Handler 190
Notably, the Hobart Handler 190 is the cheaper of the two MIG welders being compared. This is somewhat implied in the name. It's quite a solid machine with some features that make it worth considering, especially as an option over the 210MVP. Also, it's designed to fit the needs of MIG welders at home. Some of its positives and downsides are listed below.
Pros
It's more affordable than the 210 MVP. Although the difference in pricing is not all that significant, you can still upgrade your purchase to include the optional spool gun, and you would still spend less than the base model of the 210 MVP.
It's slightly lighter, and if your destination has a 240V socket, it would be easier to carry.
It's versatile and offers excellent control over welds, and this ability is improved with the purchase of the optional spool gun.
Cons
Probably the 190's biggest downside compared to the 210 MVP is the lack of a dual-voltage option.
The duty cycle also rules it out from industrial use. It should, however, be just fine to use for hobbyist and home applications.
Also, the device uses 240V outlets, and according to

World Standards

Trusted Source

Full list: Plug, socket & voltage by country - World Standards

Below is a complete overview of all countries of the world and their respective plugs/outlets and voltages/frequencies used for domestic appliances.

www.worldstandards.eu , the default voltage in most American sockets is 120V. As such, unless your workshop already has 240V sockets in place, you'll likely need to pay extra to upgrade the wiring and power outlets.
Hobart Handler 210MVP
As a major market competitor to the Hobart Handler 190, the Hobart Handler 210MVP makes a significant case for itself. Yes, you'll have to pay a bit more, but it seems like a good deal if you want the edge in functionality over the 190. This will come down to pricing for some because budgets are such a massive part of a buying decision. Nevertheless, if money is no object, here are the pros and cons of this option.
Pros
Despite the extra functionality, the construction of this welder has managed to maintain the same form factor as the 190.
This option will plug right into both a 240V and a 120V socket without any major modifications. Both plugs are included with the purchase and attach and detach easily to the cable provided.
The duty cycle is a slight improvement from the Hobart Handler 190.
A slightly higher power output allows the Hobart 210MVP to weld thicker metals.
Cons
While size is precisely the same in the 210MVP and 190, the weight isn't. This option weighs approximately 11 lbs more, and this small difference may seem larger when you include other heavy tools in your transport package.
There is a close to $200 price difference that favors the 190 over the 210.
Hobart Handler 190 vs. Hobart Handler 210MVP
During our Hobart handler 190 vs 210 comparison and review, we couldn't help but feel the two devices are quite similar. You can see that in the size, design, and even the features. However, by looking a little deeper, you start to notice some variations that might make all the difference to you as a potential buyer.
Any of these two welders could be worth buying depending on the types of welding projects you're planning on tackling, in addition to your current circumstances. For instance, if you already have 240V wiring and intend to only use the welder at home, there's no reason not to save some money by getting the Hobart Handler 190.
Conversely, if your potential use scenario involves moving from place to place where you're not sure the kinds of socket outputs you'll get, the 210MVP becomes the obvious pick. Ultimately, whether you purchase one machine or the other will come to the minute differences, we touched on above.
If you keep reading, you'll find more information on these differences and as well as all the features you find in either of the two devices.
Process
The Iowa Valley Community College District asserts that there are four types of welding processes available with welding machines. They include MIG, TIG, Stick, and Flux-cored. However, as we highlighted above, Hobart is known more for producing MIG/gas metal arc welding machines, and it's no different for both the Handler 190 and the Handler 210MVP.
Both these machines are capable of MIG welding, which is generally preferred for indoor projects. It produces clean welds since it uses a gas to shield the weld while it cools and solidifies. However, the gas shields don't do well outdoors since they can be blown away by the wind.
This doesn't mean that these Hobart machines are unsuitable for outdoor welding. They are also considered multi-process machines since they can tackle Flux-cored welding as well. The "flux" in the Flux-cored wire burns and forms a cover over the weld to keep it protected while it cools down. It's much harder to blow away than gas and hence will be preferred for outdoor projects.
Here, there's no difference between the Hobart 210 MVP and Hobart 190 since the two work with Flux-cored and MIG welding processes.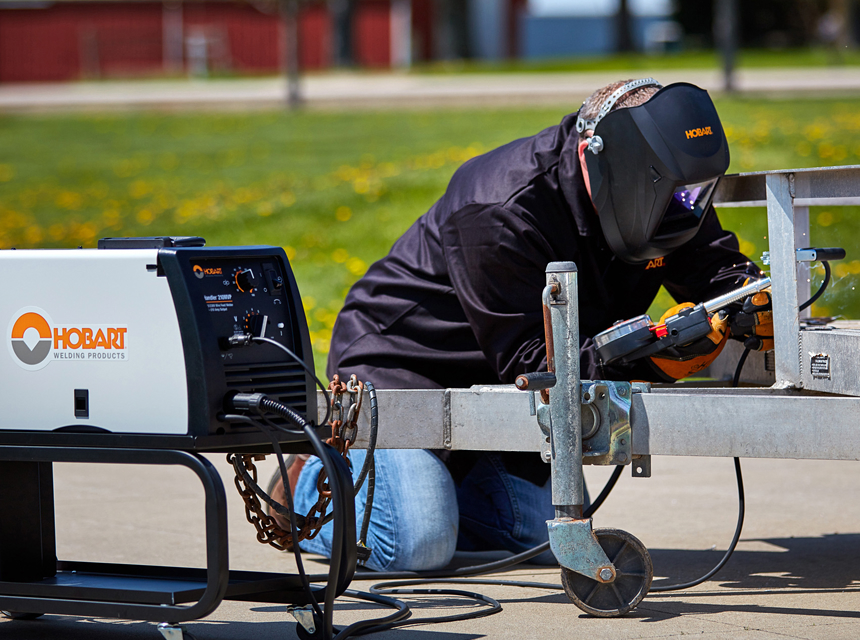 Voltage settings
The voltage settings tie back to the power input options of both machines. As stated above, the Hobart 190 only works with 220/230/240 V sockets. This varies from the 210 MVP, which works with both 220/230/240 V and 110/115/120 V sockets.
Consequently, the Hobart Handler 190 offers seven voltage selections. According to EWI Trusted Source Gas Metal Arc Welding Basics: Welding Current & Welding Voltage - EWI Gas metal arc welding (GMAW) is a welding process that has been commercially available for around 60 years.  ewi.org , the voltage is one of the parameters that can help control the weld output. In fact, it can increase the width to depth ratio or reduce it according to the settings you choose.
The Hobart Handler 210MVP also offers the same seven voltage options. However, this is only if you're using the 220/230/240 V inputs. If you're using 110/115/120 V sockets, the number of voltage settings is cut down to four.
Weldable metals
Weldable materials are another area where you can't differentiate the Hobart Handler 190 and 210 MVP. Both can help you weld mild steel, stainless steel, flux-cored steel, and aluminum. That said, if you get either of these devices and want to weld aluminum more effectively, you'll have to opt for the optional spoolrunner 100 spool gun.
This will eliminate any aluminum wire feeding problems that you'd otherwise run into and make the overall process smoother.
Material thickness
Notably, both welding machines will go only as low as welding 24 gauge materials. Any smaller, and you'll likely just burn through the metal. One significant difference shows up in the upper limit. While the 190 will max out with 5/16" sheets, the 210 goes a step higher and can weld 3/8" in a single pass.
It's possible to make multiple passes to make up the difference while dealing with thicker metals. Nevertheless, it's much easier if you don't have to, especially for longer projects.
If you were to compare the settings charts provided on the side doors of both devices, you'd notice another difference as well. The 210 seemingly offers better and more precise control when welding thinner metals. As such, if you deal with all types of thin materials, this is a better option.
Let's not forget the effects of the power output in controlling the arc and weld. Consequently, since the 210 also works with 120V sockets and has the settings to match, this results in additional control when working with thinner materials.
Welding wires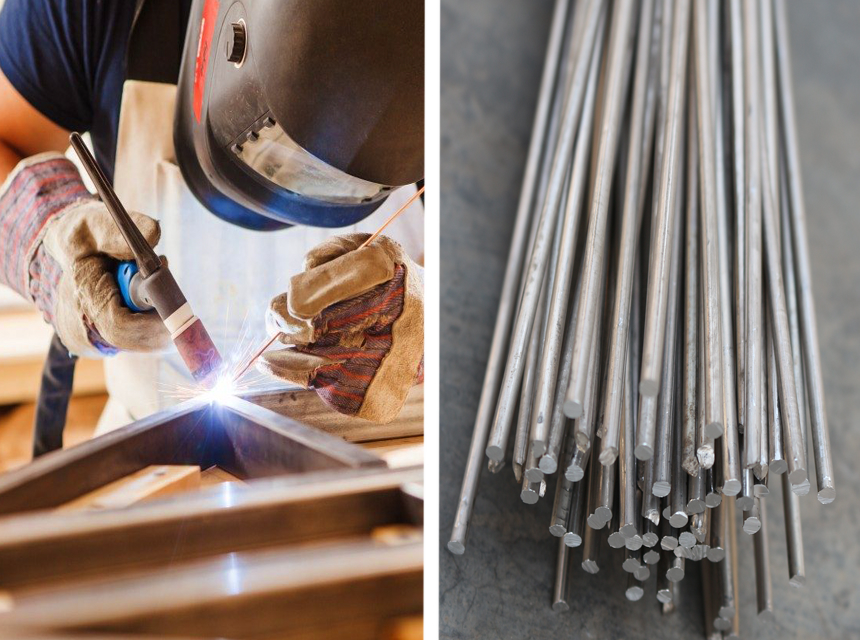 In terms of welding wires, both the Hobart Handler 190 and the Hobart Handler 210MVP offer the same thickness parameters. Both options come with a quick-select dual groove drive roll that can help you switch easily between two-wire thicknesses available included in your project setup. When using solid wire for MIG welding, the device accepts 0.023 – 0.035 wires and 0.030 – 0.045 in. wires for self-shielding flux-cored welding.
Notably, the wire feed speed tends to have a bearing on the amperage used, which affects the weld penetration.
Consequently, the 210MVP is superior since it can feed wires at speeds of between 40 and 770 inches per minute. Comparatively, the 190 is not far off with a 40 IPM lower limit and a 740 IPM upper speed limit. Nevertheless, if you want the extra control that a broader range of feed speeds will allow you, the 210 is a better pick.
Amperage
As we've just mentioned, the feeding speed affects the amperage and consequently the weld penetration. As such, since the Hobart Handler 210MVP has a wider range of feeding speeds, it stands to reason that it should have a wider amperage range as well.
While the 190 has an output range of between 25-190A, the 210 takes it further with the 25-210A range. This allows it to weld some thicker metals since the higher the power output and feed speed are necessary for deeper welds.
Duty cycle
With regards to the duty cycle, you still get a better deal with the 210MVP. Remember, the output range of the 190 stands at 25-190A. In this range, the device features a 30% duty cycle at 130 amps. If you run it at a higher output setting, the duty cycle will be even shorter. Consequently, it's impossible to use it in industrial applications that require long weld times.
Comparatively, the 210 is slightly better. The power output, as we mentioned above, is superior and maxes out at 210A. The duty cycle is rated at 30% at 150amps when you're using a 240V outlet.
Consequently, if you lower the power output, you can run it for even longer, allowing for some industry and professional applications.
Nevertheless, if you're a hobbyist who doesn't handle big projects, the longer runtime may not be all that useful for your needs.
Controls
Seemingly the controls are almost identical, or at least that's the impression you get if you take a passing glance at the panels of the two welding devices. However, if you take a keener look at the two devices, you'll notice some fundamental differences.
The positioning of the circuit breaker is one example. While in the 210MVP, it is integrated with the power on/off switch, in the 190, you find it in a totally different spot.
Furthermore, the 210MVP reflects that you can only use four of the seven voltage settings when the device is connected to a 120V socket. This is why you find the 190 has seven fully shaded labels for the voltage settings, while in the 210, three settings feature shaded labels while the rest are unshaded.
Ease of use
Both welding machines don't seem to be a problem for the average welder or even the newbie to use. As shown above, the controls are relatively similar, so if you know how to use the 190, you'll likely know how to use the 210MVP as well. The minor differences in controls shouldn't be too difficult to learn about if you're moving from the former to the latter.
Weight and portability
As per our Hobart handler 190 vs 210 comparison and review, the weight is one of the few areas where the 190 wins. It weighs in at 68lbs. Contrast that with the 210, which weighs 79lbs, and you'll see the former seems easier to carry.
Notably, this weight difference is not a huge deal if all you're transporting is the welding machine. However, often you have to add other tools, e.g., a carbon dioxide or argon tank, a spool gun, and more. This can make the difference seem more apparent than it is.
Also, while the 190 is more portable due to the weight, you have to consider the destination and the type of sockets you'll get. As such, since the 210 offers dual voltage capabilities, it might be a better option to carry around.
Thermal protection
Both devices in this comparison come with self-resetting thermal overload protection, meaning they will shut down to prevent overheating during use. The main difference in this function is the thermal overload light in the construction of the 210MVP. Of course, this is helpful since you know the machine is good to go when the light goes off. However, this light is conspicuously absent in the Handler 190 model.
Price
The pricing is another area that favors the 190. It's cheaper, and if you're a hobbyist with the right infrastructure, it's a pretty good deal, even with the inclusion of the spool gun. If you regularly tackle industrial and professional-level jobs, the slightly higher price of the 210MVP should not deter you.
So, Which to Choose?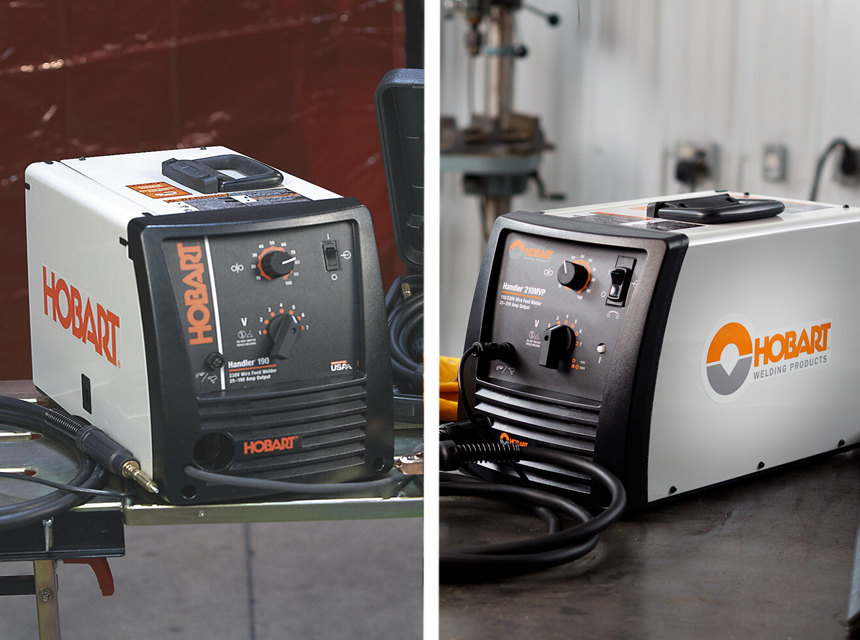 The option you pick depends on your circumstances and what you want from the machine. If you're a hobbyist with 240V outlets, the cheaper option makes a lot of sense. However, if you're in the same situation but don't have the right sockets for the machine, it seems like the 210MVP would be a better purchase.
You'll still need to upgrade your wiring and outlets to get the machine's full functionality, but you can start by using 120V sockets before you get the funds for the upgrade. Also, by doing so, you avoid having to upgrade the machine once you're more comfortable with welding.
The 210MVP makes a strong case for itself if you're an enthusiast or an industry professional. There aren't many downsides except for maybe the price and the slightly higher weight.
Final Thoughts
Ultimately, the two devices are very similar while still being different. They consequently work for different markets. If you're a newbie, the 190 makes a lot more sense. This is especially true if you have the sockets to match. The 210MVP is an upgrade to the 190, and if you're interested in welding as more than a passing hobby, it can work quite well.
The results of our Hobart 190 vs 210 review are as stated above. You can look at all the features that matter to you and how the two compare before opening your wallet to acquire either machine as per your preferences and potential use scenarios.
References
1.
Full list: Plug, socket & voltage by country - World Standards
Below is a complete overview of all countries of the world and their respective plugs/outlets and voltages/frequencies used for domestic appliances.
2.
Gas Metal Arc Welding Basics: Welding Current & Welding Voltage - EWI
Gas metal arc welding (GMAW) is a welding process that has been commercially available for around 60 years.