If you're looking for a professional welder machine to use for your DIY projects, whether you're a professional or amateur, you won't do wrong with a machine from Hobart. Well known in the welding industry for their quality products, sturdy builds and the affordable prices, one of their dependable models is the Handler 140, which we would explore in this guide.
The Hobart Handler 140 is one of the compact-sized MIG welders produced by these manufacturers, and it is ideal for hobbyists, DIYers and enthusiasts who want to make minor repair and maintenance tasks or carry out welding projects.
In this guide, we would look extensively at this welder to answer one question, 'Is the Hobart Handler 140 right for you?'
This product's also been included into these rankings:
Specifications
Welding processes
Flux Cored (FCAW), MIG (GMAW)
Weldable metals
Aluminum, stainless steel, steel
Material thickness
Mild steel 24.00 ga - 1/4 in.
Input voltage
110/115/120 V
Rated output
90 A @ 20% duty cycle
Amperage range
25 A – 140 A
Max open circuit voltage
28 VDC
Wire feed speed
40 IPM – 700 IPM
Dimensions
10.6 x 12.4 x 19.5 inches
Hobart Handler 140 Review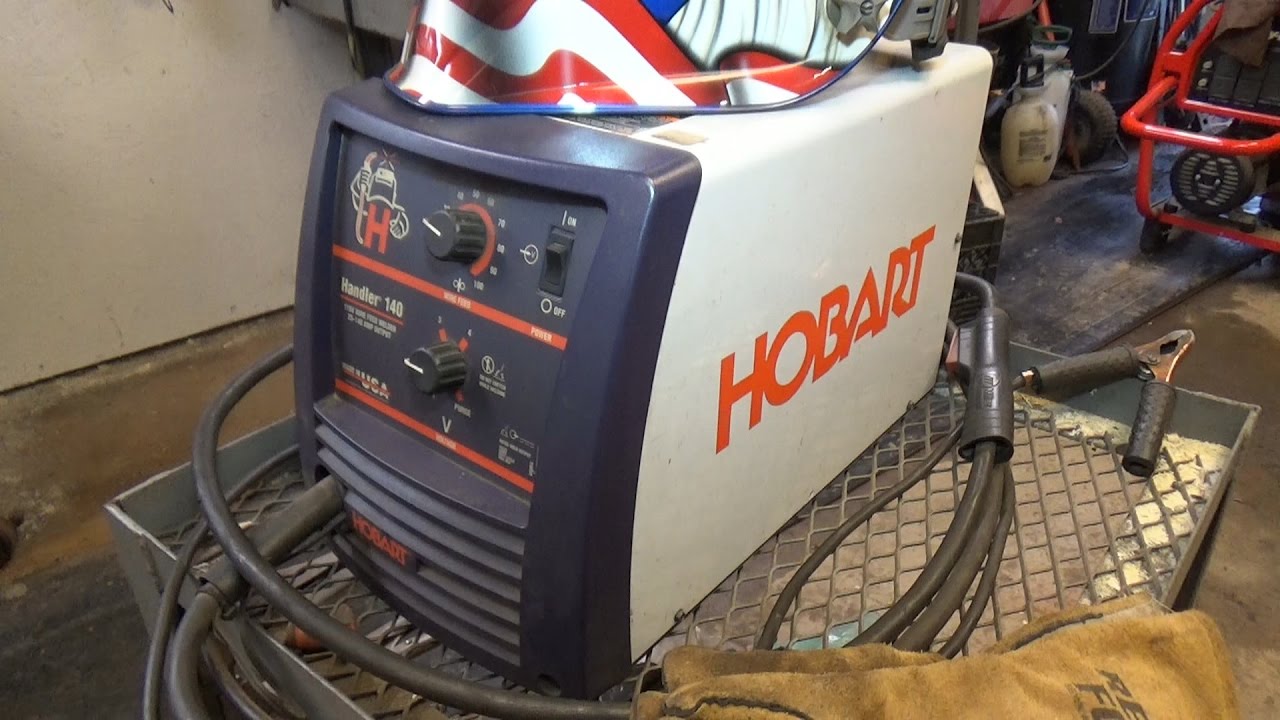 Hobart is a top company in the United States, known mainly in the welding industry for their impressive welders. The Handler 140 is one top welders from the company, which is a MIG welder device that can work on different kinds of steel and other metals.
The Hobart Handler 140 offers a wide range of features that can easily convince anyone looking for a good welder. From the thermal overload protection and quick select drive roll to the lightweight design and 20% duty cycle, the machine fits the bill for anyone who isn't looking for an industrial welder.
Below, we would explore a detailed breakdown of the top features that the welder offers.
Welding Processes
It's generally easy to weld different metals like steel, cast iron and aluminum with the Handler 140. The device comes with a sample of flux-cored wire Trusted Source Flux-Cored Welding: The Basics for Mild Steel Learn some techniques when using the self-shielded flux-cored process for welding mild steel — an ideal process for welding outdoors. www.millerwelds.com and a manual, offering you detailed information on how you can use it before going over to the real thing. 
It also comes with a 10-feet hose that you can attach to the trigger, so you can place your welder close to you while you connect the hose without wasting any materials. It makes mobility and working around your project easier. This is assisted by the plug, which can be plugged in any household outlet.
The welder offers a fast feed wire speed, and you can crank it up or slow it down depending on the speed that you prefer to work with.
Materials that Can Be Welded
The Hobart Handler 140 is a versatile model, as it can be used with different kinds of metals. You can use it to weld mild steel, stainless steel, thick steel, aluminum, cast iron, brass, titanium and copper. The device can be easily adjusted as you change the metal, using a 24-gauge steel. 
With the variety of metals that you can weld, you can use the Handler 140 with sports equipment, ornamental devices, BBQ pits, work machinery, trailers, and works of art. It offers brilliant performance and power, which we would explore below.
Material Thickness
Since the Handler 140 isn't meant for industrial or commercial use, don't expect the device to work with very thick metals. Even if it can work with a variety of metals, you have to check to see if they fit the thickness range.
The material thickness goes as thin as 24 gauge and as thick as ¼ inch for mild and stainless steel. You can MIG weld thin materials like steel, stainless steel and aluminum, while the flux cored function allows you to weld thicker steel and other materials.
The device also comes with infinite control over the wire feed speed for making adjustments.
Power Requirements
The maximum power of the Hobart Handler 140 is the 140A, which provides it more than enough power for fence work, motorcycle exhausts, and auto body work. The 140A runs on low input voltage of 115v, which can be plugged in any household outlet in your home.
The device features five voltage settings, so you can choose the amount of power that you need. The highest voltage setting is what you use to weld ¼ inch steel. For thinner materials, you can reduce the settings. The Handler 140 comes with a door chart which shows the settings for the right kind of material.
Duty Cycle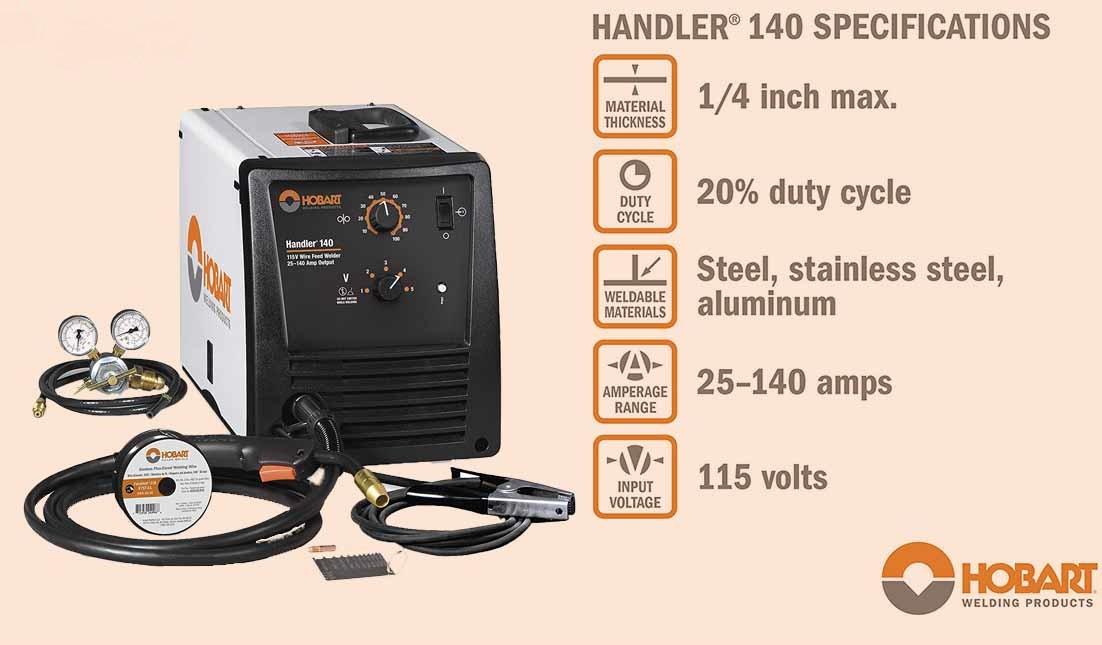 The duty cycle of any welder machine measures the welding time over a 10-minute period. So, the duty cycle that you have determines how long the device will operate and how long it would rest within 10 minutes, to prevent overheating.
For the Handler 140, you get a duty cycle of 20% at 90 amps. This means that the device would run for 2 minutes before resting for 8 minutes. The duty cycle is ideal for those using the welder for hobbies and small projects or maintenance, as 2 minutes is too short for industrial use.
Arc Control
The Handler 140 features an excellent arc performance for all welders who know how to wield the device. With the duty cycle, you get a regular arc from this welder without consistently checking the machine and adjusting it. 
You can also adjust the arc and thickness with the voltage control selector as you choose the different five options. It gives you the functionality to stabilize and fine-tune your arc.
Ease of Use
Beginners, novices, and DIYers can easily get the hang of the Handler 140, because of the clean user interface. The control panel has an uncluttered design, with only one light, two knobs, and a switch for turning it on and off. You won't mix up the intuitive controls this way.
The two knobs are used for wire feed speed and voltage settings, which offer maximum to minimum or five control settings, respectively. You also get infinite wire feed speed settings. 
There is also a Quick Select drive system which makes it easy to change the wire size and the roller size without using any tools. So, you can switch from MIG to flux cored function with the device. 
You don't have to worry about memorizing the different wire speeds and settings because there is a settings chart located on the inside part of the wire compartment. It also shows you the voltage settings to use for different material thickness. Simply check the settings whenever you want to operate the device.
The Hobart Handler 140 is beginner-friendly, but this doesn't mean that experienced welders won't be impressed by the ease of use. After all, everyone wants to use a convenient welder.
Safety Features
When you use the Hobart Handler 140, keep in mind that there are different safety features to protect you from overheating and overloading. This is because welding consumes large amounts of electricity. 
There is the wire drive motor protection which would ensure that your device is not affected by an automatic overload circuit. Then, the device provides thermal protection, which shuts it down whenever the power supply temperature goes too high. If the welder becomes too hot, it shuts down and the fan would blow the unit so it cools down.
Another safety feature is the output overload feature, in which the circuit breaker would trip if you exceed the maximum output. Then, you must manually reset the breaker for the welder to work again.
The control panel also has an overload light indicator, which would light up whenever the overheating protection feature has kicked in and when the device is cool enough to work again. Generally, the Hobart Handler 140 makes it straightforward for beginners and experienced welders to operate the device safely. 
You should also keep the different safety gear and equipment at hand when operating the device, as it won't come with these.
Portability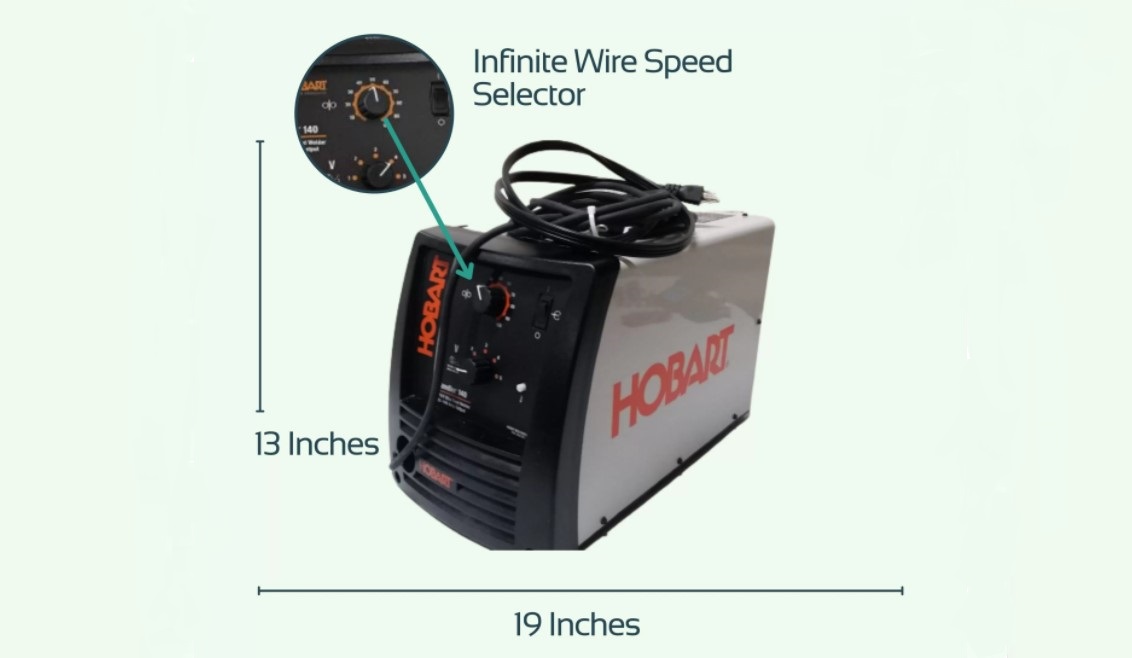 When choosing a welder, portability and mobility are two important factors. Luckily, the Handler 140 meets both. It features dimensions of 12.4 x 10.6 x 19.5 inches, which gives it a small and space saving design that makes storage much easier. It also weights about 57 pounds, giving you the chance to carry and place the device wherever is comfortable for you. 
The mobility and versatility become better with the 155V input power supply, which allows you to plug in the device anywhere that you have a household wall outlet, as long as it is a 20A circuit. This means that you can plug it and use it anywhere safe.
Warranty
Hobart welders usually come with impressive warranties which shows how much faith they have in their products. With the Handler 140, you get the 5/3/1 warranty, which has your back should anything happen to the device.
You get 1-year for the MIG gun, relays and contactors, while the wire drive system, regulator and control boards get 3-year warranties. Then, the transformer has a 5-year warranty coverage. The MIG gun, relays and contactors can come with a 90-day warranty instead if the device is used for industrial purposes.
What Is Included with the Purchase?
Apart from the main Handler 140 device, you can expect to see other accessories and tools that add value to the device and expand its functions. They include the SpoolRunner 100-gun, spool adapter, power cord and work cable, MIG gun, clamp and flux cored wire.
You would also see the gas hose, dual gauge regulator, contact tips, a set up guide and a user manual for convenient use.
Key Features
Motor Damage Protection Feature
The Hobart Handler device features motor damage protection which ensures that the device stays protected from overload and overheating. It ensures that device does not end up damaged when using it. 
The Hobart Handler 140 device uses a 10-feet MIG gun to operate the welding, which makes it easy to weld mild and stainless-steel metal. 
Voltage Five Position Selector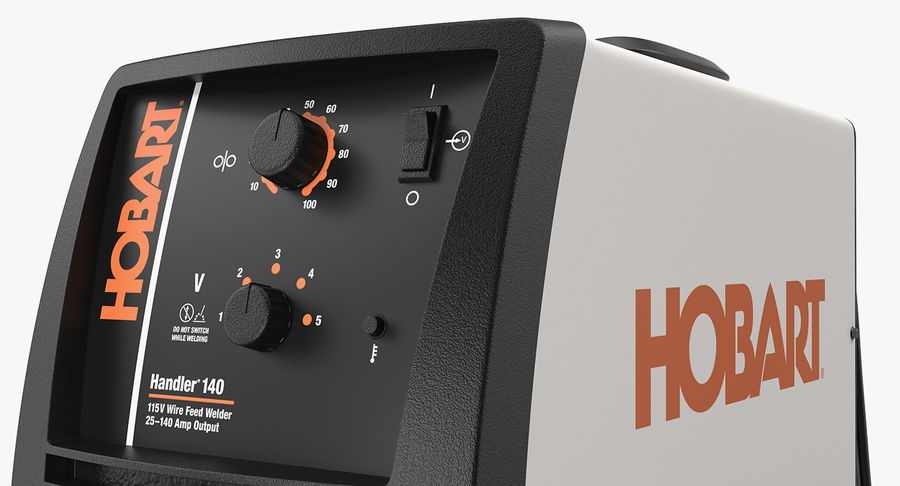 You have five voltage settings with the Handler 140, which you can control using the knob on the front of the device. With the five settings, you also have different ways to adjust your arc.
The amperage range of the Handler 140 is between 25 and 140 amps, so you have more than enough to choose from when operating the device.
Unlike other types of welders, you can use the Hobart Handler 140 for more than just mild steel or stainless steel. It can work with thick steel, brass, copper, and cast iron. 
Would This Welder Be Right for You?
The Hobart Handler 140 is an ideal choice mostly for those who aren't looking for an industrial or commercial welder. Instead, it would work better for those who are new to welding and looking for a good device to start with. The unit is great for hobbyists, DIYers, and beginners, although small shops can also operate it if they do weld once in a while. From auto body work to maintenance work, this would be right for you if you fit in any of the categories.
PROS
CONS

Lightweight and space-saving design for increased mobility and portability
Impressive safety fittings
Convenient for those with low skill level and low budget
Precise arc performance with little spatter.
Easy to setup and use with a setup guide
It can weld a wide range of metals except steel
Five settings for the voltage selector

Only appropriate for projects of small size and beginners
The 110-volts usage is limiting if you're in a place that doesn't offer that amount of power
You need an extra gas cylinder which means extra costs
Conclusion
The best thing about the Hobart Handler 140 is the fact that it offers more value for its money and skill level. Although it is packed with very impressive features that would leave any beginner or expert impressed, the welder is still affordable and ideal for small projects. Combine the quality and wide functionality with durability, and you have a top-notch welder that you can use for a long time.
The set-up is made easy for beginners, and highly capable. And with the moderate pricing, it would be a valuable asset for small shops, rookies, DIYers, and other people who need a good welder.
References
1.
Flux-Cored Welding: The Basics for Mild Steel
Learn some techniques when using the self-shielded flux-cored process for welding mild steel — an ideal process for welding outdoors.